Chromecast vs. Chromecast Ultra: Which should you buy?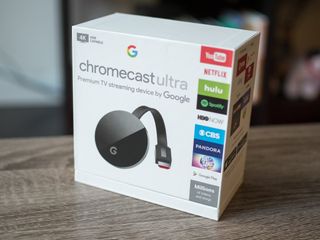 (Image credit: Andrew Martonik / Android Central)
Chromecast Ultra
(opens in new tab)
The Chromecast Ultra remains the only device that lets you stream Stadia games on your television. It can also cast any content in 4K HDR and Dolby Vision. Unfortunately, this device doesn't support the new Google TV platform and is also no longer sold on Google's website, making the Stadia Premiere Edition the only way to get ahold of one.
Chromecast Ultra
Enables Google Stadia on TV
4K HDR support
Includes ethernet adapter
Faster startup and streaming
No Google TV
Only available in Stadia Premiere Edition bundle
Expensive
Chromecast (3rd gen)
(opens in new tab)
The standard third-generation Chromecast is effectively the same device as the Chromecast Ultra, but it loses 4K streaming capabilities — and in return, it's less than the price. If you have no intention of streaming in 4K, or just need a Chromecast for a less-used TV, this fits the bill.
Chromecast (3rd gen)
Solid 1080p picture
Can be powered by your TV USB port
The cheapest Chromecast available
No 4K or HDR support
No Ethernet port
No Stadia support
No Google TV support
With the launch of the superb Chromecast with Google TV, the Chromecast Ultra vs. Chromecast 3rd Gen showdown is truly a battle to see which device is second-best. Neither device supports the new Google TV platform, but is the bargain-priced Chromecast or the Stadia-enabled Chromecast Ultra still worth buying? We'll explain which of the older Chromecast models remains relevant today.
Why buy a Chromecast?
A Chromecast plugs into an HDMI port on your TV, A/V receiver, or any other display that can play video and audio. Once the dongle is set up, it can mirror your phone or computer screen, or receive an online stream from many Android apps or any Chrome browser. Once a stream is connected, the Chromecast takes over the connection, so only the Chromecast's bandwidth is taken up; your phone or laptop, despite being the source of the stream, no longer uses processing resources or battery life to power it.
There are thousands of apps in Google Play and Apple App Store, including hundreds of the most popular streaming services, that are Chromecast-enabled. Google maintains a robust (but not necessarily complete) list of Chromecast-enabled apps (opens in new tab), in case you want to check if your favorite niche app casts.
The Chromecast, Chromecast Ultra, and Chromecast with Google TV all receive Cast streams in the same way, though the base Chromecast has a lower max video resolution and doesn't support Dolby Vision. Neither the Chromecast nor Chromecast Ultra have a remote control or access to Google TV apps, so you have to use your phone as your remote and streaming library at the same time.
Chromecast Ultra vs. Chromecast (3rd Gen): Who should buy the 'regular' Chromecast?
This third-generation Chromecast is the basic media streamer many of us want. It handles 1080p video streams really well, it's small, and supports 802.11ac Wi-Fi at both 2.4GHz and 5GHz for easy setup and good quality. It can be powered by your TV if you have a suitably powerful USB port on the back, but there's also a power adapter in the box so you can even plug it into older TVs.
This Chromecast's main shortcoming is that it doesn't support 4K or HDR video; it's limited to just 1080p. If you own a 4K-compatible TV, your Chromecast (3rd Gen) streams won't look as crisp and vibrant as they should. At the same time, not all streaming services offer 4K streams, and the ones that do often require higher bandwidth than your internet plan or router can handle.
The Chromecast (3rd Gen) is cheaper than the Chromecast with Google TV (and much cheaper than the Chromecast Ultra), but the price difference comes with much less power and features, making the discount hard to justify as increasingly more apps and websites offer 1440p or 4K video. As such, in our Chromecast with Google TV vs. Chromecast article, we strongly recommended buying the newer model.
However, there are some exceptions. If you want a dongle that doesn't take up a power outlet, only the Chromecast is low-power enough to run on your TV's USB port. And if you own another streaming device for 4K video, and really just want a second, cheap device just for casting regardless of the lower resolution, then the Chromecast (3rd Gen) will save you some cash.
Chromecast Ultra vs. Chromecast (3rd Gen): Who should buy the Chromecast Ultra?
Before the Chromecast with Google TV, the Chromecast Ultra was the only means we had of casting in 4K HDR. With a 2x1 MISO (Multi Input Single Output) antenna for faster network speeds and low latency, the Chromecast Ultra took advantage of its powerful hardware to stream with minimal buffering or skipping. It also featured an Ethernet port for a more consistent internet connection, in case your wireless is spotty wherever your TV is located.
Chromecast Ultra was far ahead of its time in specs at launch, and easily wins the Chromecast Ultra vs. Chromecast 3rd Gen battle. However, the Chromecast with Google TV also offers 4K HDR and Dolby Vision and Atmos, which the Ultra doesn't offer. Plus, while the Ultra has no remote or apps, the Google TV model offers thousands of free apps and a remote with built-in Google Assistant support. The Chromecast with Google TV is also more affordable, and Google has currently removed the Ultra from its stores and stopped stocking the Ultra on third-party retailers.
So, with the Ultra all but defunct, why buy one? Because it's the only Chromecast that works with Stadia and can stream games on a television. The Chromecast with Google TV will reportedly get access to Stadia streaming sometime in the first half of 2021, but that means you'll have to wait for the update.
You can play Stadia on your phone, PC or laptop, but streaming games on your TV in 4K is an awesome perk. If you decide you don't want to wait for Google to add the service, then you can buy the Google Stadia Premiere Edition, which includes a new Chromecast Ultra and the excellent Stadia controller. With these in hand, you'll get access to our favorite Stadia games months before Chromecast with Google TV owners.
The Ultra will never get access to Google TV, but many buyers won't mind: there are plenty of Chromecast alternatives for you to try for streaming, while relying on the Ultra for casting specifically.
Stadia on your TV
Your only Stadia option (for now)
This years-old dongle belies its age with excellent specs that make 4K HDR streams a breeze, and it remains your only method for streaming Stadia games on your TV. Unless you need Dolby Vision, Dolby Atmos or another TV remote, the Ultra isn't a bad 4K alternative.
Cheap 1080p casting
(opens in new tab)
If casting is all you need
If you're looking for the cheapest possible way to start streaming to your TV, the third-generation Chromecast fits the bill. It's less than half the price of the Ultra, making it appealing for anyone who doesn't care about 4K or wants to connect a secondary TV.
Android Central Newsletter
Get the best of Android Central in in your inbox, every day!
Keegan Prosser is a freelance contributor based in the PNW. When she's not writing about her favorite streaming apps and devices for Android Central, she's listening to a true-crime podcast, creating the perfect playlist for her next road trip, and trying to figure out which fitness tracker she should try next. You can follow her on Twitter @keeganprosser.
Android Central Newsletter
Thank you for signing up to Android Central. You will receive a verification email shortly.
There was a problem. Please refresh the page and try again.